The ECOC Facility
Located on beautiful Eagle Lake with plenty of shoreline and forested areas, Eagle Crest Outdoor Centre is the perfect northern camp location.
Our Location & Facility
Located in the beautiful Almaguin Highlands, Eagle Crest Outdoor Centre's setting provides a panoramic view of Eagle Lake and its many islands.
Our peninsula is not only one of our most prominent features but it also provides a natural shelter for our busy waterfront. Our shoreline features a shallow sandy bottom perfect for swimming and recreational water activities. 
On the other side of camp, a forested area gives way to kilometres of trails and sheltered outdoor activity space. 
Physical Address
961 Park Rd S, Machar Township, ON, CA, P0A 1Z0
Mailing Address
Eagle Crest Outdoor Centre, PO Box 448, Sundridge, ON P0A 1Z0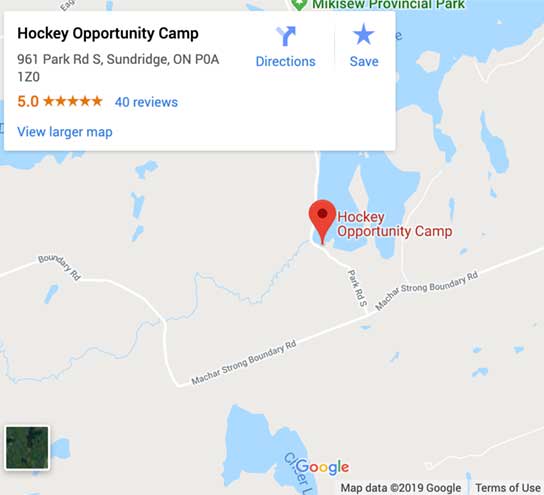 Available Lodging & Indoor Spaces
Accommodates Up to 200 People
We can accommodate up to 200 people in our traditional bunkhouses, which hold between 8-12 students each. Female and male cabins are located separately. We also offer separate accommodations for teachers/supervisors.
Quality Amenities
Large restrooms with flush toilets, hot & cold running water, and showers are located adjacent to the cabins.
Large Indoor Spaces
The main lodge serves as our social centre and dining room. 
In addition to the main lodge, two large recreation halls ensure that programming continues indoors during inclement weather.
Food & Catering
The main lodge seats 120 and serves hearty meals prepared by our catering service.
Catered Meals
Meals are prepared by a professional caterer whose speciality is the camping industry. Meals are served family style and are all you can eat! Our chef prepares well-balanced meals as well as fresh baked bread and desserts (baked on-site). Given the intense activity levels of our students, meals are of high nutritional value. Custom menu options can be discussed upon request.
Allergies / Special Diets
Please list food allergies on the Participant Health Summary. Our Chef can accommodate a number of food allergies/special diets. For severe allergies, parents may review a copy of the menu for the trip and they may need to supply alternative food choices for certain meals (if deemed necessary). 
Questions about our accommodations or meal service?
Plan Ahead With Our Trip Planner
Our trip planning guidelines make it easy for teachers and organizers to book, plan, and prepare for their trip.